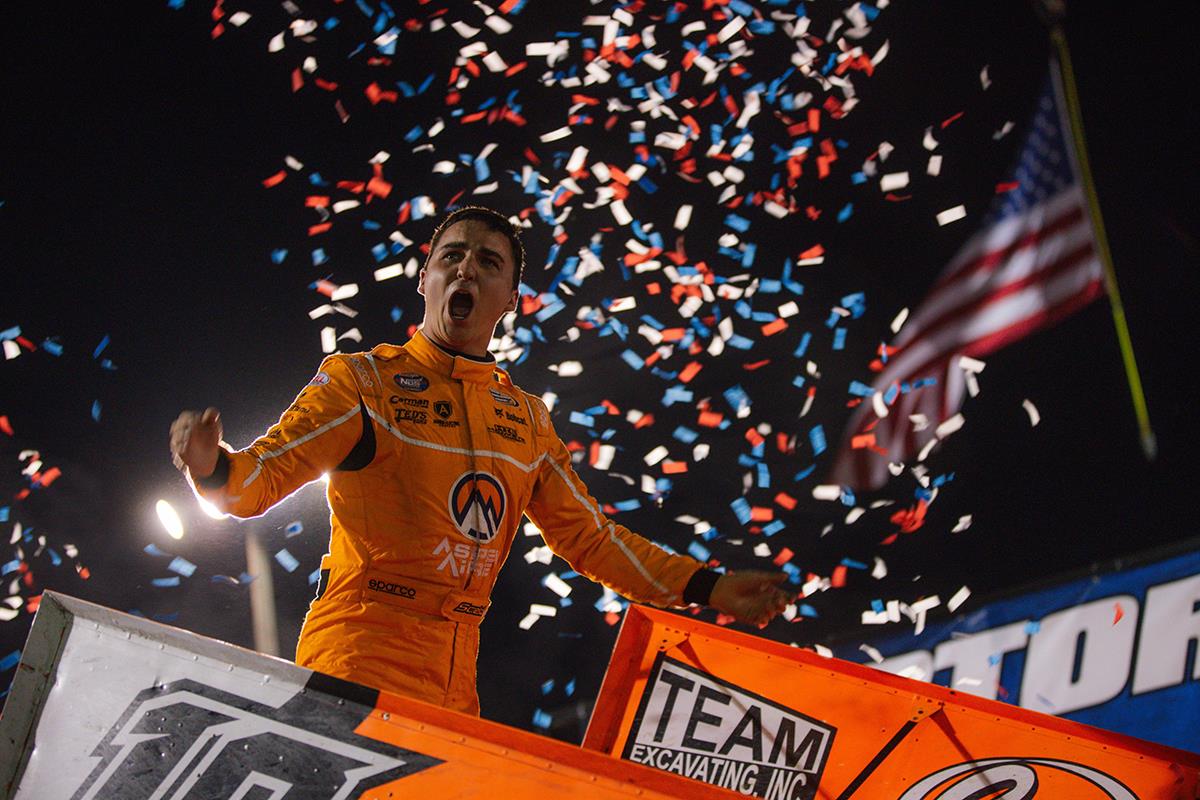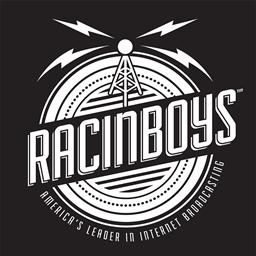 ---
Gio Scelzi bags $50,000 at Lakeside Speedway
(Kansas City, KS) -- Giovanni Scelzi scored the biggest prize of his career Tuesday nigh as The High Limit Racing Series opened its 2023 season with Shane Stewart's Heartland of America Showdown presented by trackhouse Tuesday night at lakeside Speedway.
The California driver earned $50,000 after starting ninth and inheriting the lead from Rico Abreu who had a tire go down with five laps to go.
Carson Macedo charged from 22nd to second and early race leader Tyler Courtney came home third.
David Gravel and Kyle Larson rounded out the top-five
Next event is Tuesday, April 25 at 34 raceway
HIGH LIMIT SERIES RESULTS
A Feature 1 (30 Laps): 1. 18-Giovanni Scelzi[9]; 2. 41-Carson Macedo[22]; 3. 7BC-Tyler Courtney[1]; 4. 2-David Gravel[12]; 5. 57-Kyle Larson[16]; 6. 1S-Logan Schuchart[14]; 7. 5-Spencer Bayston[5]; 8. 15-Donny Schatz[2]; 9. 21-Brian Brown[18]; 10. 39M-Anthony Macri[4]; 11. 71-Cory Eliason[6]; 12. 49-Brad Sweet[8]; 13. 13-Justin Peck[17]; 14. 55-Hunter Schuerenberg[26]; 15. 11-Michael Kofoid[15]; 16. 55B-Alex Bowman[25]; 17. 39-Justin Sanders[13]; 18. 29-Parker Price Miller[11]; 19. 2MD-Conner Morrell[21]; 20. 88-Austin McCarl[7]; 21. 14T-Tim Estenson[19]; 22. 24-Rico Abreu[3]; 23. 9R-Chase Randall[27]; 24. 19-Brent Marks[23]; 25. 21H-Brady Bacon[10]; 26. 25-Scott Bogucki[20]; 27. 2KS-Ian Madsen[24]
B Feature 1 (12 Laps): 1. 2MD-Conner Morrell[1]; 2. 41-Carson Macedo[3]; 3. 19-Brent Marks[4]; 4. 2KS-Ian Madsen[7]; 5. 22-Riley Goodno[11]; 6. 9-Kasey Kahne[12]; 7. 14-Cole Macedo[5]; 8. 3-Ayrton Gennetten[6]; 9. 17-Sheldon Haudenschild[15]; 10. 26-Zeb Wise[9]; 11. 6-Carson McCarl[19]; 12. 55B-Alex Bowman[13]; 13. 55-Hunter Schuerenberg[8]; 14. 3TK-Tim Shaffer[14]; 15. 15H-Sam Hafertepe Jr[16]; 16. 1-Justin Henderson[17]; 17. 24W-Garet Williamson[18]; 18. 48-Danny Dietrich[20]; 19. 9R-Chase Randall[10]; 20. 97-JJ Hickle[2]
C Feature 1 (10 Laps): 1. 1-Justin Henderson[4]; 2. 24W-Garet Williamson[3]; 3. 6-Carson McCarl[6]; 4. 48-Danny Dietrich[10]; 5. 22S-Slater Helt[7]; 6. 3J-Dusty Zomer[12]; 7. 17B-Bill Balog[13]; 8. 44-Chris Martin[8]; 9. 10-Paulie Colagiovanni[14]; 10. 2B-Brett Becker[15]; 11. 47X-Dylan Westbrook[1]; 12. 8-Aaron Reutzel[2]; 13. 5T-Ryan Timms[5]; 14. 52-Blake Hahn[9]; 15. 11M-Brendan Mullen[11]; 16. 7-Brooke Tatnell[16]; 17. 1C-Brenham Crouch[17]; 18. 6X-Frank Rodgers[18]; 19. (DNS) 31-Joe B Miller
Dash 1 (7 Laps): 1. 7BC-Tyler Courtney[1]; 2. 15-Donny Schatz[3]; 3. 24-Rico Abreu[2]; 4. 39M-Anthony Macri[4]; 5. 5-Spencer Bayston[8]; 6. 71-Cory Eliason[6]; 7. 88-Austin McCarl[5]; 8. 49-Brad Sweet[7]
Heat 1 (8 Laps): 1. 88-Austin McCarl[1]; 2. 49-Brad Sweet[3]; 3. 18-Giovanni Scelzi[4]; 4. 39-Justin Sanders[2]; 5. 13-Justin Peck[10]; 6. 41-Carson Macedo[7]; 7. 2KS-Ian Madsen[6]; 8. 26-Zeb Wise[12]; 9. 55B-Alex Bowman[5]; 10. 47X-Dylan Westbrook[8]; 11. 5T-Ryan Timms[9]; 12. 52-Blake Hahn[11]
Heat 2 (8 Laps): 1. 71-Cory Eliason[1]; 2. 39M-Anthony Macri[2]; 3. 29-Parker Price Miller[3]; 4. 11-Michael Kofoid[5]; 5. 14T-Tim Estenson[6]; 6. 14-Cole Macedo[12]; 7. 2MD-Conner Morrell[4]; 8. 22-Riley Goodno[7]; 9. 17-Sheldon Haudenschild[8]; 10. 24W-Garet Williamson[11]; 11. 22S-Slater Helt[10]; 12. 11M-Brendan Mullen[9]
Heat 3 (8 Laps): 1. 7BC-Tyler Courtney[1]; 2. 24-Rico Abreu[2]; 3. 21H-Brady Bacon[4]; 4. 1S-Logan Schuchart[3]; 5. 21-Brian Brown[5]; 6. 19-Brent Marks[9]; 7. 55-Hunter Schuerenberg[7]; 8. 9-Kasey Kahne[8]; 9. 3TK-Tim Shaffer[12]; 10. 8-Aaron Reutzel[6]; 11. 6-Carson McCarl[11]; 12. 48-Danny Dietrich[10]
Heat 4 (8 Laps): 1. 15-Donny Schatz[1]; 2. 5-Spencer Bayston[2]; 3. 2-David Gravel[3]; 4. 57-Kyle Larson[4]; 5. 25-Scott Bogucki[10]; 6. 3-Ayrton Gennetten[6]; 7. 9R-Chase Randall[8]; 8. 97-JJ Hickle[5]; 9. 15H-Sam Hafertepe Jr[7]; 10. 1-Justin Henderson[9]; 11. 44-Chris Martin[12]; 12. 3J-Dusty Zomer[11]
Qualifying 1: 1. 88-Austin McCarl, 00:14.328[17]; 2. 71-Cory Eliason, 00:14.486[16]; 3. 39-Justin Sanders, 00:14.511[14]; 4. 39M-Anthony Macri, 00:14.546[1]; 5. 49-Brad Sweet, 00:14.568[10]; 6. 29-Parker Price Miller, 00:14.570[19]; 7. 18-Giovanni Scelzi, 00:14.586[3]; 8. 2MD-Conner Morrell, 00:14.629[8]; 9. 55B-Alex Bowman, 00:14.640[12]; 10. 11-Michael Kofoid, 00:14.647[2]; 11. 2KS-Ian Madsen, 00:14.735[13]; 12. 14T-Tim Estenson, 00:14.790[11]; 13. 41-Carson Macedo, 00:14.794[23]; 14. 22-Riley Goodno, 00:14.828[18]; 15. 47X-Dylan Westbrook, 00:14.838[9]; 16. 17-Sheldon Haudenschild, 00:14.934[28]; 17. 5T-Ryan Timms, 00:14.959[6]; 18. 11M-Brendan Mullen, 00:14.999[15]; 19. 13-Justin Peck, 00:15.004[26]; 20. 22S-Slater Helt, 00:15.006[4]; 21. 52-Blake Hahn, 00:15.033[20]; 22. 24W-Garet Williamson, 00:15.081[24]; 23. 3N-Jake Neuman, 00:15.102[22]; 24. 26-Zeb Wise, 00:15.187[25]; 25. 17B-Bill Balog, 00:15.229[27]; 26. 2B-Brett Becker, 00:15.425[21]; 27. 6X-Frank Rodgers, 00:15.729[5]; 28. 31-Joe B Miller, 13:05.570[7]
Qualifying 2: 1. 7BC-Tyler Courtney, 00:14.673[28]; 2. 15-Donny Schatz, 00:14.707[15]; 3. 24-Rico Abreu, 00:14.726[25]; 4. 5-Spencer Bayston, 00:14.812[22]; 5. 1S-Logan Schuchart, 00:14.844[9]; 6. 2-David Gravel, 00:14.847[18]; 7. 21H-Brady Bacon, 00:14.865[27]; 8. 57-Kyle Larson, 00:14.907[1]; 9. 21-Brian Brown, 00:14.923[5]; 10. 97-JJ Hickle, 00:14.938[21]; 11. 8-Aaron Reutzel, 00:14.969[2]; 12. 3-Ayrton Gennetten, 00:14.998[16]; 13. 55-Hunter Schuerenberg, 00:15.005[24]; 14. 15H-Sam Hafertepe Jr, 00:15.032[11]; 15. 9-Kasey Kahne, 00:15.059[20]; 16. 9R-Chase Randall, 00:15.063[17]; 17. 19-Brent Marks, 00:15.064[7]; 18. 1-Justin Henderson, 00:15.116[19]; 19. 48-Danny Dietrich, 00:15.132[14]; 20. 25-Scott Bogucki, 00:15.149[6]; 21. 6-Carson McCarl, 00:15.151[12]; 22. 3J-Dusty Zomer, 00:15.183[23]; 23. 14-Cole Macedo, 00:15.198[3]; 24. 3TK-Tim Shaffer, 00:15.264[8]; 25. 44-Chris Martin, 00:15.480[26]; 26. 1C-Brenham Crouch, 00:15.481[10]; 27. 7-Brooke Tatnell, 00:15.518[4]; 28. 10-Paulie Colagiovanni, 00:15.585[13]
Non-Qualifer (8 Laps): 1. 26-Zeb Wise[1]; 2. 14-Cole Macedo[2]; 3. 3TK-Tim Shaffer[4]; 4. 44-Chris Martin[6]; 5. 17B-Bill Balog[3]; 6. 10-Paulie Colagiovanni[11]; 7. 2B-Brett Becker[5]; 8. 7-Brooke Tatnell[10]; 9. 1C-Brenham Crouch[8]; 10. 6X-Frank Rodgers[7]; 11. 31-Joe B Miller[9]; 12. (DNS) 3N-Jake Neuman
-=======================================================================================================================\
USRA B-MODS
A
Feature 1 (15 Laps): 1. J2-Kris Jackson[6]; 2. 8S-Jon Sheets[1]; 3. 19K-Kyle Slader[8]; 4. 90-Terry Schultz[4]; 5. 7J-Jake Richards[10]; 6. 34-Mark Schafman[20]; 7. 181-Luke Nieman[3]; 8. 6T-Michael Taylor III[5]; 9. 007-Zach Nitsch[7]; 10. 17L-Chris Leathers[9]; 11. 17C-Henry Chambers[13]; 12. 98K-Kenton Allen[15]; 13. 9-Don Marrs[12]; 14. 47-Tyson Lanfermann[11]; 15. 27-Jarret Beach[17]; 16. 14B-Brayden Bennett[2]; 17. 30-Dakota Jennings[19]; 18. (DNF) 56-Shadren Turner[21]; 19. (DNF) 66-Ryan Gillmore[22]; 20. (DNF) 91J-Jaylen Wettengel[14]; 21. (DNF) 37-Daniel Charles[18]; 22. (DNF) 44S-Steven Bowers Jr[23]; 23. (DNF) 57-Tim Powell[16]; 24. (DNS) 1-Kyle Henning
Heat 1 (8 Laps): 1. 8S-Jon Sheets[2]; 2. J2-Kris Jackson[3]; 3. 181-Luke Nieman[8]; 4. 19K-Kyle Slader[6]; 5. 7J-Jake Richards[7]; 6. 47-Tyson Lanfermann[9]; 7. 17C-Henry Chambers[11]; 8. 98K-Kenton Allen[12]; 9. 57-Tim Powell[10]; 10. 37-Daniel Charles[4]; 11. 30-Dakota Jennings[1]; 12. (DNS) 44S-Steven Bowers Jr
Heat 2 (8 Laps): 1. 14B-Brayden Bennett[3]; 2. 007-Zach Nitsch[1]; 3. 6T-Michael Taylor III[4]; 4. 90-Terry Schultz[5]; 5. 9-Don Marrs[2]; 6. 17L-Chris Leathers[11]; 7. 91J-Jaylen Wettengel[10]; 8. 1-Kyle Henning[9]; 9. 27-Jarret Beach[7]; 10. (DNF) 34-Mark Schafman[8]; 11. (DNF) 56-Shadren Turner[6]; 12. (DNF) 66-Ryan Gillmore[12]
---
Submitted By: Kirk Elliott
Back to News