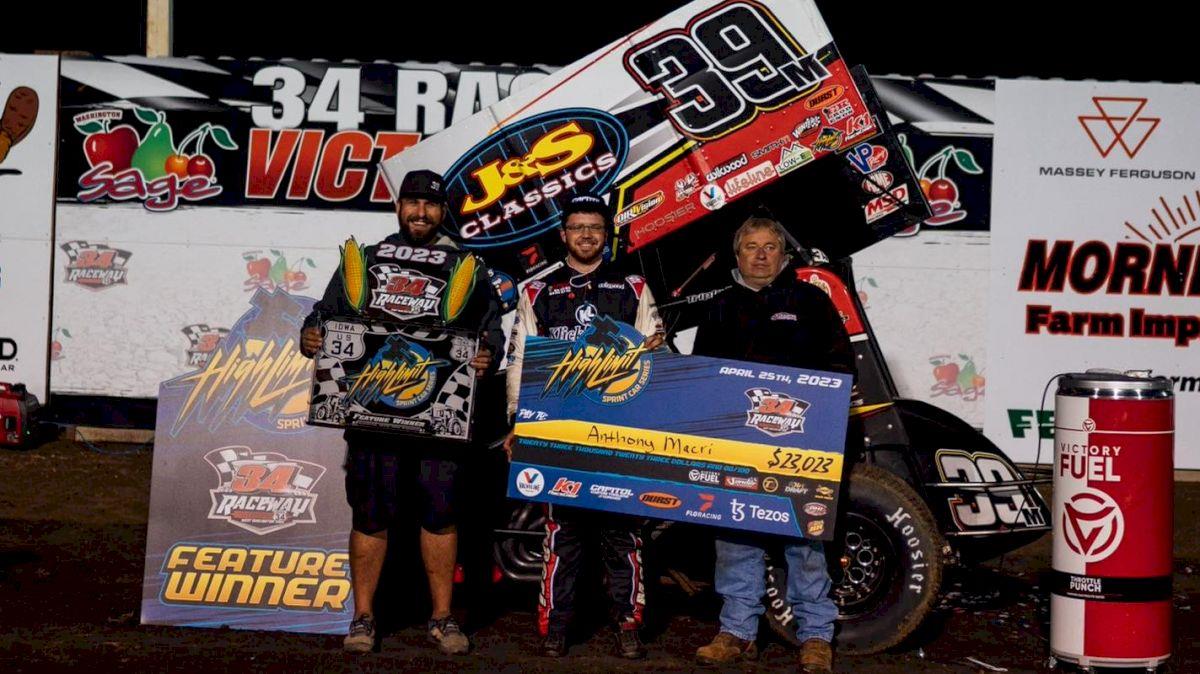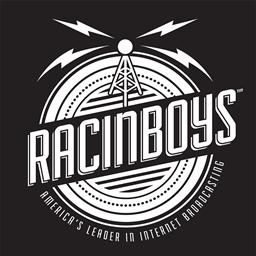 ---
Macri prevails in High Limit Series at 34 Raceway
By Kyle McFadden (West Burlington, IA) -- Using a midrace restart and slower traffic to his advantage, Anthony Macri of Dillsburg, Pa., overtook Buddy Kofoid with eight laps remaining to win Tuesday's second round of the inaugural High Limit Sprint Car Series season at 34 Raceway.
Macri earned $23,023 for the victory — his second overall of the season when counting March 26's win in an unsanctioned event at BAPS Motor Speedway in York Haven, Pa. — which comes as the third-richest victory of his Sprint Car career.
Zeb Wise of Angola, Ind., finished second from the 11th-starting spot, 1.420 seconds off Macri's winning pace. Tenth-starting Kyle Larson of Elk Grove, Calif., finished third. Larson lost out on a runner-up finish after pushing his car off the cushion in turns one and two on the final lap in a move for the win that went awry.
Penngrove, Calif.'s Kofoid, who led a race-high 18 laps (laps 10-27), finished seventh. Polesitter Brent Marks of Myerstown, Pa., led laps 1-9 and finished fourth. Brian Brown of Higginsville, Mo., earned hard-charger in his 21st-to-ninth run.
Six cautions slowed the 35-lap feature that lasted 35 minutes. Alex Bowman, Ricky Stenhouse Jr., Ian Madsen, and Ryan Timms were among the many drivers that failed to qualify for the main event.
"It's still setting in. I'm sure it'll take a day or two to fully set in." said Macri. " It honestly feels pretty badass to be able to come outside of Pennsylvania, at tracks we haven't been to, or haven't seen, other than a video I watched on the way here today. It feels really rewarding. It feels incredible."
RESULTS
A Feature 1 (35 Laps): 1. 39M-Anthony Macri[3]; 2. 26-Zeb Wise[11]; 3. 57-Kyle Larson[10]; 4. 19-Brent Marks[1]; 5. 7BC-Tyler Courtney[13]; 6. 24-Rico Abreu[9]; 7. 11-Michael Kofoid[2]; 8. 39-Justin Sanders[6]; 9. 21-Brian Brown[21]; 10. 29-Parker Price Miller[22]; 11. 8-Aaron Reutzel[12]; 12. 25-Scott Bogucki[16]; 13. 21H-Brady Bacon[14]; 14. 88-Austin McCarl[17]; 15. 9-Chase Randall[4]; 16. 14-Cole Macedo[19]; 17. 55-Hunter Schuerenberg[20]; 18. 15H-Sam Hafertepe Jr[15]; 19. 48-Danny Dietrich[24]; 20. 10-Paulie Colagiovanni[27]; 21. 71-Cory Eliason[25]; 22. 3Z-Brock Zearfoss[7]; 23. 13-Justin Peck[8]; 24. 17B-Bill Balog[18]; 25. 52-Blake Hahn[5]; 26. 9K-Kasey Kahne[26]; 27. 50-Paul Nienhiser[23]
B Feature 1 (12 Laps): 1. 21-Brian Brown[1]; 2. 29-Parker Price Miller[4]; 3. 50-Paul Nienhiser[3]; 4. 48-Danny Dietrich[11]; 5. 3-Ayrton Gennetten[2]; 6. 9K-Kasey Kahne[7]; 7. 1-Justin Henderson[14]; 8. 51B-Joe B Miller[9]; 9. 5T-Ryan Timms[6]; 10. 49-Josh Schneiderman[8]; 11. 55H-McKenna Haase[17]; 12. 6-Carson McCarl[16]; 13. 44-Chris Martin[19]; 14. 10-Paulie Colagiovanni[18]; 15. 7-Brooke Tatnell[5]; 16. 22-Riley Goodno[20]; 17. 24W-Garet Williamson[13]; 18. 71-Cory Eliason[15]; 19. 3J-Dusty Zomer[12]; 20. 2KS-Ian Madsen[10]
C Feature 1 (10 Laps): 1. 55H-McKenna Haase[1]; 2. 10-Paulie Colagiovanni[3]; 3. 44-Chris Martin[2]; 4. 22-Riley Goodno[8]; 5. 17JR-Ricky Stenhouse Jr[6]; 6. 14T-Tim Estenson[4]; 7. 97-Scott Milan[11]; 8. 11K-Kraig Kinser[14]; 9. 6C-Mario Clouser[10]; 10. 2MD-Conner Morrell[5]; 11. 35-Zach Hampton[7]; 12. 55B-Alex Bowman[9]; 13. 16TH-Kevin Newton[12]; 14. 6X-Frank Rodgers[13]; 15. 15M-Bobby Mincer[15]
Dash 1 (7 Laps): 1. 19-Brent Marks[1]; 2. 11-Michael Kofoid[3]; 3. 39M-Anthony Macri[6]; 4. 9-Chase Randall[4]; 5. 52-Blake Hahn[2]; 6. 39-Justin Sanders[5]; 7. 3Z-Brock Zearfoss[7]; 8. 13-Justin Peck[8]
Heat 1 (8 Laps): 1. 52-Blake Hahn[1]; 2. 11-Michael Kofoid[5]; 3. 24-Rico Abreu[4]; 4. 7BC-Tyler Courtney[7]; 5. 88-Austin McCarl[8]; 6. 50-Paul Nienhiser[6]; 7. 7-Brooke Tatnell[12]; 8. 51B-Joe B Miller[11]; 9. 24W-Garet Williamson[9]; 10. 55H-McKenna Haase[10]; 11. 2MD-Conner Morrell[3]; 12. 55B-Alex Bowman[2]
Heat 2 (8 Laps): 1. 3Z-Brock Zearfoss[1]; 2. 9-Chase Randall[2]; 3. 26-Zeb Wise[4]; 4. 15H-Sam Hafertepe Jr[3]; 5. 14-Cole Macedo[6]; 6. 21-Brian Brown[5]; 7. 9K-Kasey Kahne[7]; 8. 48-Danny Dietrich[10]; 9. 71-Cory Eliason[9]; 10. 10-Paulie Colagiovanni[11]; 11. 35-Zach Hampton[8]; 12. 97-Scott Milan[12]
Heat 3 (8 Laps): 1. 13-Justin Peck[2]; 2. 19-Brent Marks[1]; 3. 57-Kyle Larson[3]; 4. 21H-Brady Bacon[5]; 5. 17B-Bill Balog[7]; 6. 29-Parker Price Miller[4]; 7. 5T-Ryan Timms[6]; 8. 2KS-Ian Madsen[8]; 9. 1-Justin Henderson[9]; 10. 44-Chris Martin[11]; 11. 17JR-Ricky Stenhouse Jr[10]; 12. 6C-Mario Clouser[12]
Heat 4 (8 Laps): 1. 39M-Anthony Macri[1]; 2. 39-Justin Sanders[2]; 3. 8-Aaron Reutzel[4]; 4. 25-Scott Bogucki[6]; 5. 55-Hunter Schuerenberg[10]; 6. 3-Ayrton Gennetten[3]; 7. 49-Josh Schneiderman[9]; 8. 3J-Dusty Zomer[11]; 9. 6-Carson McCarl[8]; 10. 14T-Tim Estenson[5]; 11. 22-Riley Goodno[7]; 12. 16TH-Kevin Newton[12]
Qualifying 1: 1. 52-Blake Hahn, 00:12.380[5]; 2. 3Z-Brock Zearfoss, 00:12.392[14]; 3. 55B-Alex Bowman, 00:12.425[1]; 4. 9-Chase Randall, 00:12.434[8]; 5. 2MD-Conner Morrell, 00:12.434[19]; 6. 15H-Sam Hafertepe Jr, 00:12.444[4]; 7. 24-Rico Abreu, 00:12.454[16]; 8. 26-Zeb Wise, 00:12.458[25]; 9. 11-Michael Kofoid, 00:12.490[18]; 10. 21-Brian Brown, 00:12.497[21]; 11. 50-Paul Nienhiser, 00:12.504[11]; 12. 14-Cole Macedo, 00:12.517[15]; 13. 7BC-Tyler Courtney, 00:12.521[12]; 14. 9K-Kasey Kahne, 00:12.544[9]; 15. 88-Austin McCarl, 00:12.548[23]; 16. 35-Zach Hampton, 00:12.554[13]; 17. 24W-Garet Williamson, 00:12.611[22]; 18. 71-Cory Eliason, 00:12.675[7]; 19. 55H-McKenna Haase, 00:12.689[17]; 20. 48-Danny Dietrich, 00:12.696[20]; 21. 51B-Joe B Miller, 00:12.729[24]; 22. 10-Paulie Colagiovanni, 00:12.771[2]; 23. 11K-Kraig Kinser, 00:12.795[3]; 24. 7-Brooke Tatnell, 00:12.920[6]; 25. 6C-Mario Clouser, 00:12.996[10]
Qualifying 2: 1. 19-Brent Marks, 00:12.424[12]; 2. 39M-Anthony Macri, 00:12.489[24]; 3. 13-Justin Peck, 00:12.497[16]; 4. 39-Justin Sanders, 00:12.522[14]; 5. 57-Kyle Larson, 00:12.536[5]; 6. 3-Ayrton Gennetten, 00:12.562[1]; 7. 29-Parker Price Miller, 00:12.578[17]; 8. 8-Aaron Reutzel, 00:12.580[19]; 9. 21H-Brady Bacon, 00:12.614[18]; 10. 14T-Tim Estenson, 00:12.616[9]; 11. 5T-Ryan Timms, 00:12.619[8]; 12. 25-Scott Bogucki, 00:12.643[11]; 13. 17B-Bill Balog, 00:12.648[15]; 14. 22-Riley Goodno, 00:12.666[13]; 15. 2KS-Ian Madsen, 00:12.680[7]; 16. 6-Carson McCarl, 00:12.698[4]; 17. 1-Justin Henderson, 00:12.706[20]; 18. 49-Josh Schneiderman, 00:12.736[10]; 19. 17JR-Ricky Stenhouse Jr, 00:12.738[2]; 20. 55-Hunter Schuerenberg, 00:12.877[21]; 21. 44-Chris Martin, 00:12.945[6]; 22. 3J-Dusty Zomer, 00:13.025[22]; 23. 97-Scott Milan, 00:13.229[23]; 24. 16TH-Kevin Newton, 00:13.348[3]; 25. 15M-Bobby Mincer, 00:13.438[25]; 26. 6X-Frank Rodgers, 00:13.725[26]
High Limit Sprint Car Series Standings After 34
Kyle Larson (180)
Tyler Courtney (180)
Anthony Macri (179)
Brian Brown (160)
Buddy Kofoid (158)
Brent Marks (155)
Zeb Wise (155)
Justin Sanders (154)
Rico Abreu (153)
Parker Price-Miller (150)
2023 High Limit Sprint Car Series Schedule
March 21 — Thunderbowl Raceway in Tulare, Calif. (rained out)
April 11 — Lakeside Speedway in Kansas City, Kan. (Gio Scelzi)
April 25 — 34 Raceway in West Burlington, Iowa (Anthony Macri)
May 2 — Kokomo (Ind.) Speedway
May 16 — Wayne County Speedway in Orrville, Ohio
May 31 — Tri-City Speedway in Granite City, Ill.
June 6 — Eagle (Neb.) Raceway
July 25 — Grandview Speedway in Bechtelsville, Pa.
Aug. 15 — Huset's Speedway in Brandon S.D.
Sept. 26 — Lernerville Speedway in Sarver, Pa.
Oct. 3 — Bridgeport (N.J.) Motorsports Park
Oct. 10 — Lincoln Park Speedway in Putnamville, Ind
========================================================================================================================
305 SPRINTS - WINGED
A Feature 1 (20 Laps): 1. 62-Jake Glasgow[1]; 2. 27-Cody Wehrle[6]; 3. 41X-Jeff Wilke[5]; 4. 79-Gage Montgomery[2]; 5. 41-Noah Samuel[10]; 6. 71-Nathan Murders[9]; 7. B29-JJ Beaver[15]; 8. 16-Devon Rouse[12]; 9. 31-McCain Richards[3]; 10. 02S-Joshua Jones[11]; 11. 51-Aaron Ferch[14]; 12. 24-Eric Wilke[16]; 13. 52H-Cole Helmerson[17]; 14. (DNF) 78-Dugan Thye[4]; 15. (DNF) 7B-Nick Guernsey[7]; 16. (DNF) 4-Chase Richards[8]; 17. (DNF) 51J-Blaine Jamison[13]; 18. (DNS) 1J-Ryan Jamison
Heat 1 (8 Laps): 1. 4-Chase Richards[2]; 2. 27-Cody Wehrle[6]; 3. 41X-Jeff Wilke[3]; 4. 31-McCain Richards[4]; 5. 71-Nathan Murders[7]; 6. 02S-Joshua Jones[9]; 7. 51J-Blaine Jamison[1]; 8. B29-JJ Beaver[8]; 9. 24-Eric Wilke[5]
Heat 2 (8 Laps): 1. 78-Dugan Thye[2]; 2. 7B-Nick Guernsey[1]; 3. 62-Jake Glasgow[5]; 4. 79-Gage Montgomery[3]; 5. 41-Noah Samuel[6]; 6. 16-Devon Rouse[7]; 7. 51-Aaron Ferch[4]; 8. 52H-Cole Helmerson[8]; 9. (DNS) 1J-Ryan Jamison
---
Submitted By: Kirk Elliott
Back to News