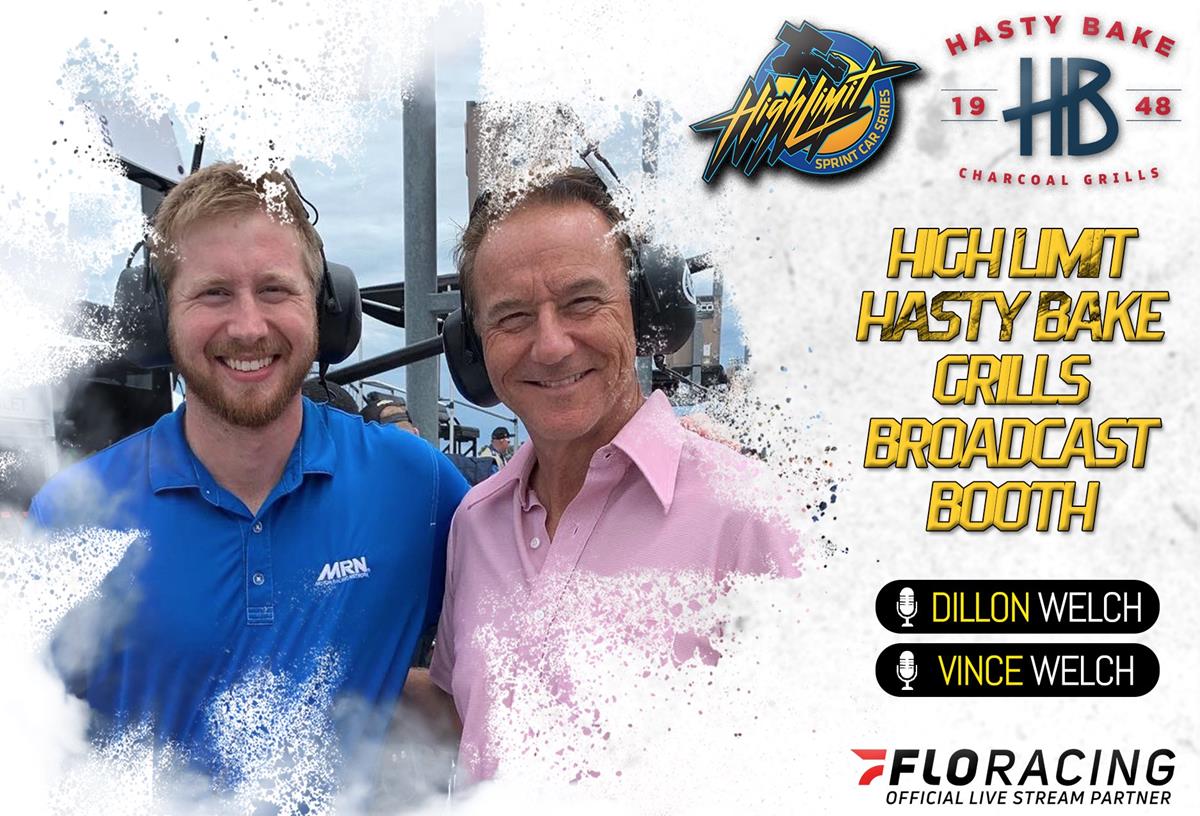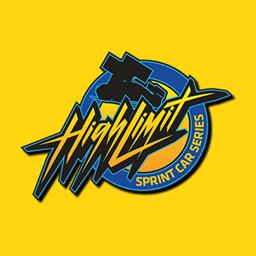 2/28/2023
High Limit Sprint Car Series
---
The High Limit Hasty Bake Grills Broadcast Booth is Bringing Vince & Dillon Welch Together in 2023
MOORESVILLE, N.C. — February 28, 2023 — Two familiar - and related - voices in the land of motorsports broadcasting are joining a pioneering force of the backyard barbecue industry to spice up the call for High Limit Sprint Car Series fans in 2023.
Allow us to introduce to you the High Limit Hasty Bake Grills Broadcast Booth - led by the father/son duo of Vince and Dillon Welch.
A leading manufacturer of charcoal grills for 75 years, Hasty Bake will not only offer discounted codes for High Limit viewers but they'll also provide the inaugural driver and owner champions with complimentary grills for their achievements.
For the Welch family, it's a rare opportunity to be the newest unique aspect of the High Limit Sprint Car Series.
"We laugh because when I was younger and started racing there was this dream of him interviewing me in victory lane," Dillon said. To now be at this point where we're doing an entire year together, I don't know that we ever dreamed that something of this magnitude was possible. I know he's excited, but I am really amped for it. I don't know that there has ever been a father/son duo that has led an announce team anywhere in racing. I know we value it now, but it'll be really special down the line."
Both staples in the NASCAR broadcast community, Vince and Dillon have worked side-by-side on pit road before, but this is the first time they'll be sharing the booth together - and it'll happen for 12 nights.
"I've been privileged to be a part of a lot of big broadcasts like the Indy 500 or Daytona 500, but you come to a point in life where you appreciate different things," Vince added. "The opportunity to see my son accomplish the things he has certainly makes you proud, but then the oppourtintiy to do that alongside him is very rare. This isn't just our jobs, it's our passion. To be able to share something you love with your kid, I don't think there is anything greater as a parent."
For Dillon, who previously served as the USAC Racing announcer in his younger years, this is a return to familiarity. For Vince, who will be announcing his first dirt racing event this year, it's a chance to conquer something new.
"I've done this long enough to understand that racing is racing," Vince continued. "I'm comfortable enough with my craft that I'm not intimidated by the fact these will be my first dirt races in the booth."
"I'll be the lead and steer the ship, but ultimately we both understand how to announce and what makes a show a good show," Dillon noted. "It'll be a matter of us getting into a rhythm and playing off of each other. We both bring a different type of experience level to dirt racing from our live television careers. It's exciting to be doing this with High Limit and the unique ideas that Kyle [Larson], Brad [Sweet], and JP [Josh Peterman] are bringing to the sport."
With Vince and Dillon Welch in the High Limit Hasty Bake Grills Broadcast Booth, they'll be joined by veteran Chris Wilner serving as the infield pit reporter on FloRacing.
The High Limit Sprint Car Series broadcasting team will be on full display when the inaugural campaign begins with a $23,023-to-win non-points event at Thunderbowl Raceway in Tulare, CA. This "Family Feud" showdown on Tuesday, March 21 marks the 10-year reunion of Larson and Sweet's epic ending to the 2013 Trophy Cup.
Select tickets throughout the season will be available for purchase at Ticket Hoss. For those unable to attend, FloRacing will have live coverage of all 12 High Limit races. Stay tuned to the High Limit Racing social channels as we continue to unveil more exciting news ahead of the 2023 season.
ABOUT HASTY BAKE
Built in Tulsa, Oklahoma, each Hasty Bake Grill is constructed by hand from the highest quality materials. As the oldest grill manufacturer in the US, the patented design of the Hasty Bake Charcoal Grill remains remarkably the same since its inception in 1948. With the ability to sear, bake and smoke all with the crank of a handle, the Hasty Bake has become a preferred grill for serious backyard enthusiasts, competition cookers, and professional chefs. The reasons for all the attention are simple: taste, versatility, and durability.
Learn more about Hasty Bake Charcoal Grills online and at the following social media accounts:
Twitter – @HastyBakeGrills
Instagram – @HastyBakeGrills
Facebook – /HastyBakeGrills
YouTube – @HastyBakeGrills
---
Back to News